We love our Dodges, Chryslers and Jeeps because they give us all sorts of fun feedback as they race through the turns, but one thing we never want is for them to start talking back to us. Abnormal noises are quite upsetting, especially to Bronx, Queens and Manhattan vehicle owners who want nothing but the best for their mechanical companions while driving in the bustling urban city streets of the New York boroughs.
For those who are curious or worried about the noises their brakes are making, here are some tips to identify the cause of the sound and decide whether or not it is a serious problem:
Why Brakes Squeal
Any time your brakes are making noises, this is the result of vibrations between the brake pads and the rotors. As the calipers squeeze the brake pads onto the rotors and make contact, they will often create rapid vibrations that create a very high frequency squealing sound.
While it is always better to be safe than sorry, keep in mind that some noises are normal when driving your car, especially in certain road conditions. Brakes that do not squeal often keep quiet because there is enough lubrication in the form of high-temperature grease covering the rotors. Over time, this grease may wear off and your vehicle will begin to make noise even though everything is functioning as usual. Some conditions may increase this friction and make the squealing more likely to occur, such as:
Muddy roads
Dusty roads
Humid or hot conditions
Road salt
A minimal amount of squealing should be expected, especially in these types of conditions. However, extremely loud squealing noises could indicate a different problem with your brakes altogether and should be taken to and evaluated at your local Manhattan car dealer, Manhattan Jeep Chrysler Dodge Ram.
Scraping and Very High-Pitched Squealing Noises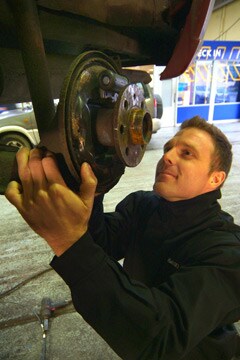 Another reason that may indicate why your brakes are squealing is that your brake pads are telling you they are at, or nearing their end. Most new vehicles brake pads have a wear indicator, which consists of a small metal lever that gradually makes contact with the rotor as the brake pads wear down. Once the pads get low enough, the wear indicator lever will touch the rotor when you brake, creating an unmistakable grinding, scraping or high-pitched screeching sound.
Take note of issues with braking, and if they are accompanied by these noises have your brake pads checked by a trusted service department. In all likelihood, both your brake pads and your rotors will need to be replaced.
Other Common Brake Issues That May Accompany Squealing
If your brakes are giving you troubles in addition to their squealing, you could be having problems beyond just worn pads or simple friction. Vibrations along the braking pedal or steering wheel mean that your rotors could be warped. A mushy pedal or other sluggish braking problems could mean your calipers need to be recalibrated or your brake fluid levels are generally low. Sometimes your rotors may also be covered in a fine rust or other particulate that creates more friction than usual, requiring a resurfacing.
The bottom line is that Manhattan, Bronx and Queens residents should not ignore brake squealing if it happens alongside other issues or if the sound is extremely loud. Take your vehicle down to Manhattan Jeep, Chrysler Dodge Ram to have any issues evaluated and to ensure that your vehicle will run safely and effectively. Click here to make an appointment with our service department as soon as you can.