Your vehicle is made up of thousands of important parts. One of the most important is your engine oil. Maintaining a regular oil change schedule is essential for keeping your vehicle in the best condition possible.
However, your schedule can sometimes get messed up, so it's good to know some signs you need an oil change. For drivers in Manhattan, the Bronx, and Queens, we at Manhattan Jeep Dodge Chrysler Ram have put together this guide about the signs you'll see when you need an oil change.
Check Engine Light is On
Your dashboard lights were designed to keep you up-to-date on what's going on in your vehicle. One of these lights will tell you about your engine light. Many engine problems are a result of low oil. So, when your check engine light comes on, there's a good chance that your oil needs some attention.
The only way to be sure is to take your vehicle in to the shop and have a technician look at it. They'll be able to tell for certain what's going on with your engine and your oil.
Oil is Low
Oil changes are necessary when your oil is low, but how can you know what level your oil is at? Luckily, you can do this right from the comfort of your garage!
Open up the hood, pull out the oil dipstick, and wipe the whole dipstick with a clean, white paper towel. Put the dipstick the whole way back into the oil tank and then carefully remove it again. On the dipstick, you'll see two lines indicating a minimum and a maximum. If the oil line happens to be below the minimum line, that means it's oil change time.
Oil is Discolored or Gritty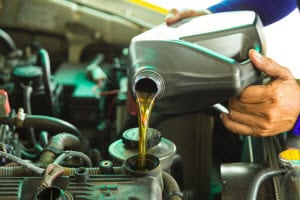 Checking your oil from time to time using the method above can tell you a lot about your oil other than how low it is. When you take out your dipstick to check your oil level, you should also be checking for discoloration and changes in texture.
When you wipe your dipstick on a white paper towel, you'll be able to see if the oil is in good condition, or yellow and smooth, or not. If it's not, it'll be dark, black, and/or gritty in texture. This means you'll need an oil change as soon as possible.
Engine is Making Unusual Noises
As the lubricant of your engine, your oil has a very important job. When your oil is low or in bad shape, your engine's parts will grind together. This grinding will be loud and will cause an increase in friction that can escalate to dangerous overheating.
Keeping your ears open for any strange noises is a good way to find problems with your vehicle. Still, listen carefully for this grinding, so you can drive safely.
Time for an Oil Change?
Do any of these things sound familiar? If they do, it's time for an oil change! Fortunately, Manhattan Jeep Dodge Chrysler Ram is only a short drive from Manhattan, the Bronx, and Queens. Give us a call today with any questions you may have or to schedule your service appointment!