Welcome to our service center at Manhattan Jeep Chrysler Dodge Ram! Our team knows how important it is to drivers in Manhattan, the Bronx, and Queens to keep their vehicles in perfect working order. That's why we provide an array of diagnostic, preventative, and reparative services at our on-site service center.
Keep reading for more information about these services, the talented team that performs these services, and how we cater to each of our new and returning customers.
Our Service Menu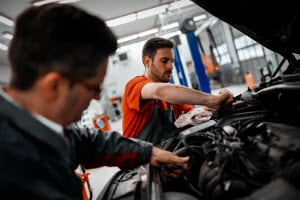 There are many parts and systems that make your vehicle move. Whether you're getting routine maintenance, like oil changes or tire rotations, or more extensive repairs, you can count on our team to properly tend to any of them when you bring your vehicle in to us. Issues that arise in your transmission, brakes, engine or what-have-you can be easily diagnosed and repaired by our talented team.
Additionally, we provide authorized state inspections for your vehicle. Before you bring your car in, use our vehicle inspection guide to double check that everything is running smoothly.
Interested in all the tire services we have to offer? Read more about it here!
Expertly Trained Technicians
Having the parts and means to fix your vehicle is only half of the service process. In order to get your vehicle back up and running, you'll need an experienced and knowledgeable technician to get the job done. Luckily, we have a whole team of them!
Our team of talented technicians is seasoned at repairing and maintaining a wide range of vehicle makes and models. No matter what you drive, we're confident we can fix it. Our service team also uses high-quality Mopar® performance parts to ensure your vehicle is getting the very best in both service and equipment. Before you come in to get your vehicle serviced, make sure you check out our service specials!
Waiting Room Amenities
We know you have a routine and life to get back to, and that shouldn't stop because your car is in need of service. Our service center offers several convenience services for you to keep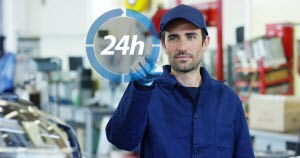 your day on track. Bring your laptop or smartphone and use our waiting room's free Wi-Fi to get your work done while you wait. If you need to get somewhere, no problem!
To cater to the busy schedules of our customers, our service center offers 24-hour service, as well as drop-off service. Drop your vehicle when it's convenient for you, and we'll let you know when it's done. You can also take advantage of our on-site rental vehicles if you don't have other transportation, and check things off of your to-do list with ease.
Schedule Your Service Appointment Today!
Now that you know what our service center is capable of, we hope you're ready to get the ball rolling on setting up your next service appointment. Whether you suspect something may be wrong or your vehicle is due for a check-up, we at Manhattan Jeep Chrysler Dodge Ram are ready and excited to help you.
Drivers in Manhattan, the Bronx, and Queens can schedule an appointment online or by giving us a call. We're looking forward to hearing from you!