The main question car shoppers face when it comes to financing is whether to lease or buy. While there's no one way that's right for everyone, it's likely that one of these payment plans makes more sense for you based on your lifestyle and financial situation.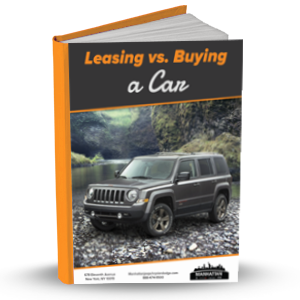 To help figure out which option is best, Manhattan Jeep Chrysler Dodge Ram's financing team put together a complete guide to Leasing vs. Buying a Car.
In our Leasing vs. Buying eBook, you'll learn:
   
Basic terms used to define the lease and loan processes and what they mean.
   
The factors that make leasing and buying different.
   
Benefits and drawbacks for each commitment.
   
Useful questions to help guide your decision.
Whether you decide to lease or buy, it's always better to be prepared! To access your FREE copy of this eBook and receive a coupon, simply fill out and submit the form on this page.