The 2018 Toyota 4Runner is touted as a rugged off-roader, but how does it stack up against the decades of off-road innovation and refinement of the 2018 Jeep Wrangler JK Unlimited?
Drivers in Manhattan, the Bronx, and Queens can find out which vehicle takes the title with our side-by-side vehicle comparison.
Performance
The 2018 Jeep Wrangler JK Unlimited is available with a 285-horsepower, 3.6-liter V6 engine paired with a six-speed manual or an eight-speed automatic transmission or a 270-horsepower, 2.0-liter turbo-four engine paired with an eight-speed automatic.
The Toyota 4Runner is equipped with a 270-horsepower, 4.0-liter V6 exclusively paired to a five-speed automatic that lacks the upgraded transmissions of its competitors.
Unfortunately, the 4Runner's engine isn't quite powerful enough to accelerate and maneuver its heavy body. The result is a bouncy, cumbersome vehicle that barely has the athleticism for normal roads let alone a challenge.
The Wrangler JK Unlimited focused on some performance and handling enhancements for the new model year, so it drives even smoother than it did before. Its transmission is also finely tuned, so it delivers smooth, consistent shifts to extract the most from the engine. The Wrangler JK Unlimited has the agility for the winding roads, but it also offers a comfortable ride for around town.
Off-Roading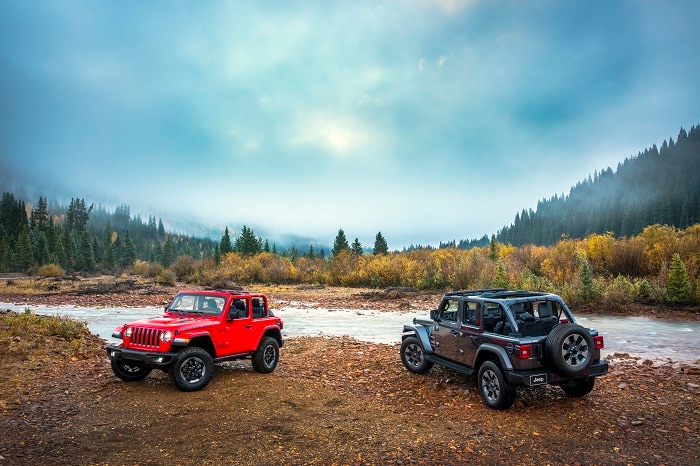 Even in its simplest configuration, the 2018 Wrangler JK Unlimited can tackle any off-road obstacle. It has a tighter turning radius and more ground clearance as well, so there's nothing that can stand in its way.
The Wrangler JK Unlimited is also equipped with many off-road-specialized features, such as a two-speed, part-time four-wheel-drive transfer case for specific use in rugged environments. Some versions are available with disconnecting sway bars, beefy axles, selectable locking differentials, a transfer case with a crawl ratio, and larger, all-terrain tires.
Despite its main selling point, the 2018 Toyota 4Runner offers only a few specialized features. There's a crawl control equivalent, though it's not as reliable as Jeep's, and a two-speed transfer case is the best it offers. Traction control modes and a locking rear differential complete its off-road features list.
Technology
The Wrangler JK Unlimited can be equipped with an 8.4-inch touchscreen Uconnect infotainment system, navigation, a 7-inch instrument cluster display with Alpine speakers, Apple CarPlay and Android Auto smartphone integration, and plenty of advanced safety features.
The 2018 Toyota 4Runner offers navigation, a 6.1-inch infotainment system, JPL audio, and a rearview camera. No advanced safety features are available, and even the higher trim levels lack most modern technology equipment.
Test Drive the 2018 Jeep Wrangler JK Unlimited at Manhattan Jeep Chrysler Dodge Ram
The 2018 Toyota 4Runner put up a good fight with its off-road capability, but it can't match the specialized features and engineering that keep the 2018 Jeep Wrangler JK Unlimited ahead of the pack. It also lacks the general performance and technology that's offered by the Wrangler Unlimited lineup.
Drivers in Manhattan, the Bronx, and Queens can experience the rugged capability of the 2018 Jeep Wrangler Unlimited for themselves when they visit Manhattan Jeep Chrysler Dodge Ram. Stop by today!