Getting around Manhattan, Queens, and the Bronx is difficult if you don't have access to the right vehicle. If you're interested in purchasing a new vehicle, there's no better choice than an SUV, particularly if you choose a premier model like the Jeep Cherokee. One of the most popular SUVs on the market year after year, the Cherokee includes some truly impressive features, including innovative technology.
Before you purchase the 2017 Jeep Cherokee, it's important you learn more about this vehicle's most useful, exciting technology features. Read about the technology provided by the Jeep Cherokee and discover the benefits of driving this high-quality SUV this model year.
Choosing Infotainment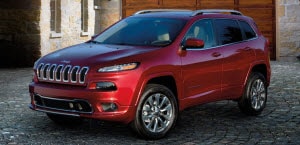 Virtually every modern vehicle includes some sort of infotainment system. However, if you want one of the most useful, feature-rich infotainment systems on the market today, choose the 2017 Jeep Cherokee and its Uconnect infotainment system.
Uconnect is one of the best infotainment systems you'll find in any SUV, providing features built for both utility and entertainment. For example, to help you reach your destination safely and on time, Uconnect has an available navigation system that includes turn-by-turn directions. If you like entertainment, then you'll love Uconnect's multiple options for streaming radio.
Stay Connected on the Go
Connectivity is one of the most important technology features you can find in a new vehicle, and if you want advanced connectivity options, then you need to take a closer look at the 2017 Jeep Cherokee.
In busy areas like Queens, the Bronx, and Manhattan, it can be hard to pick your vehicle out of a crowd. Fortunately, with the Cherokee, you'll have access to Vehicle Finder. Just take out your smart phone and you can get directions to your vehicle's location. If you like to know about your opportunities for recreation while you're out on the town, you'll love using Send 'n Go, which allows you to locate points of interest near you.
Understand Your Vehicle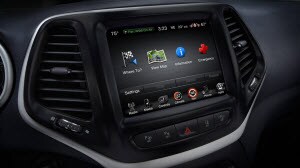 While driving around the city, you want to know how your vehicle is functioning. If you choose to drive the 2017 Jeep Cherokee, you'll get all the information you need thanks to a driver information cluster display.
The seven-inch cluster display is fully customizable, allowing you to choose which information is displayed. You can also change your settings right from your steering wheel, providing you with a maximum level of convenience. Understanding your vehicle's performance is easy when you're behind the wheel of the Cherokee.
Experience the 2017 Jeep Cherokee
The best way to learn more about the technology of the 2017 Jeep Cherokee is to experience this vehicle in person. Schedule a test drive today at Manhattan Jeep Chrysler Dodge Ram either by giving us a call or contacting us online.
The experienced dealership staff at Manhattan Jeep Chrysler Dodge Ram can tell you about every vehicle on our lot, including the 2017 Jeep Cherokee. When you shop with us, we'll help you find the new or pre-owned vehicle that meets your needs and budget.