Brakes are a critical component of your vehicle. If your brakes were to fail, you would find yourself in an emergency, unable to stop yourself from hitting the car in front of you, barreling into a store, or striking a pedestrian.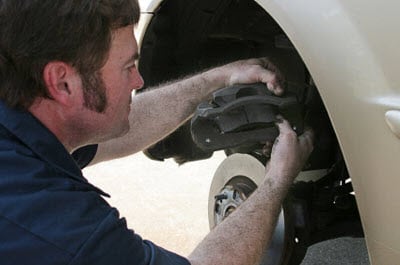 It's important to have your brakes checked regularly to ensure that they stay in peak operating performance so you don't find yourself in a dangerous situation due to brake failure while you're driving. Although there are many signs that your brakes may need to be replaced, it's important to check your brakes often so you don't have to spend money on costly repair bills.
Main Components
Brakes are made of two primary components: brake pads and brake rotors. Brake pads typically wear out first and require frequent inspections, at least once each year. Frequent drivers will need to have their brake pads checked more often, as much as every three months, to ensure they're not wearing out. If the brake pads do wear out, the brake rotors may become damaged, which is much more expensive to fix.
When brake pads begin to wear out, you'll hear a scraping noise from your wheels, which will be louder during braking. Another key sign is the amount of dust that's on your wheels. When brake pads wear out, they produce less dust. While you may enjoy the cleaner wheels, it's a signal to get your brake pads checked.
Some brake pads come with an indicator to tell when they're worn out, while others you can tell by measuring the thickness. Consult your owner's manual or the service department at Manhattan Jeep Chrysler Dodge Ram to determine when your brake pads have worn out.
Brake rotors also wear out and need to be replaced. Most consumers feel more comfortable having a professional examine the brake rotors, but if you're checking them yourself, you should look for them to be smooth. When grooves and pits develop, that signals it may be time to replace the brake rotors.
You may also begin to feel excess vibrations while driving, in both the brake pedal and the steering wheel. Other indicators include not stopping as fast as usual or the car's warning light turning on.
Other Concerns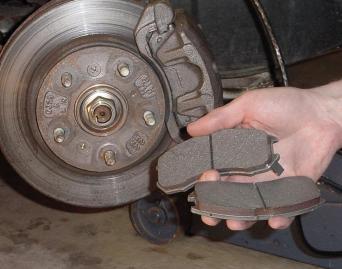 While brake pads and rotors are the most likely sources of brake failure, fluid leaks and other problems with the hydraulic system can occur. Brake fluid can also become contaminated and affect the workings of your brakes. If you notice any changes in your braking system, you should have your brakes checked as soon as possible.
Safe braking is necessary for safe driving. If your brakes fail, you're at high risk of a serious and potentially fatal accident. It's important to have your brake pads inspected regularly, every three to 12 months depending on your particular car and driving habits, as well as having your braking system checked whenever you notice a change in how your car feels or sounds when you brake. If you pay attention to these warning signs and keep up with regular car maintenance, you can avoid a devastating collision due to brake failure.
For regularly scheduled brake repair and service, make sure you stop to schedule an appointment at your local Manhattan service department at Manhattan Jeep Chrysler Dodge Ram. We offer a variety of services and repairs for your new or used vehicle.