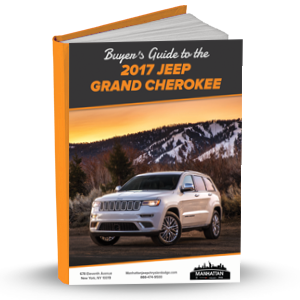 The 2017 Jeep Grand Cherokee is a reliable and stylish crossover that delivers a great deal of power while offering some remarkable features. However, deciding whether it's the right vehicle for you can be tricky if you don't have enough information to help along the way. Luckily, our FREE eBook, Buyer's Guide to the 2017 Jeep Grand Cherokee, provides up-to-date and in-depth information to help determine if the vehicle is right for you. In our eBook, you'll learn about:
Power, performance, and abilities
Interior style and comfort
Media and technology
Active and passive safety features
Getting your FREE copy of this eBook is easy. Simply fill out the form on this page and click Submit. In no time, you'll receive your copy of our eBook, along with some exclusive coupons you can use during your next visit at Manhattan Jeep Chrysler Dodge Ram.