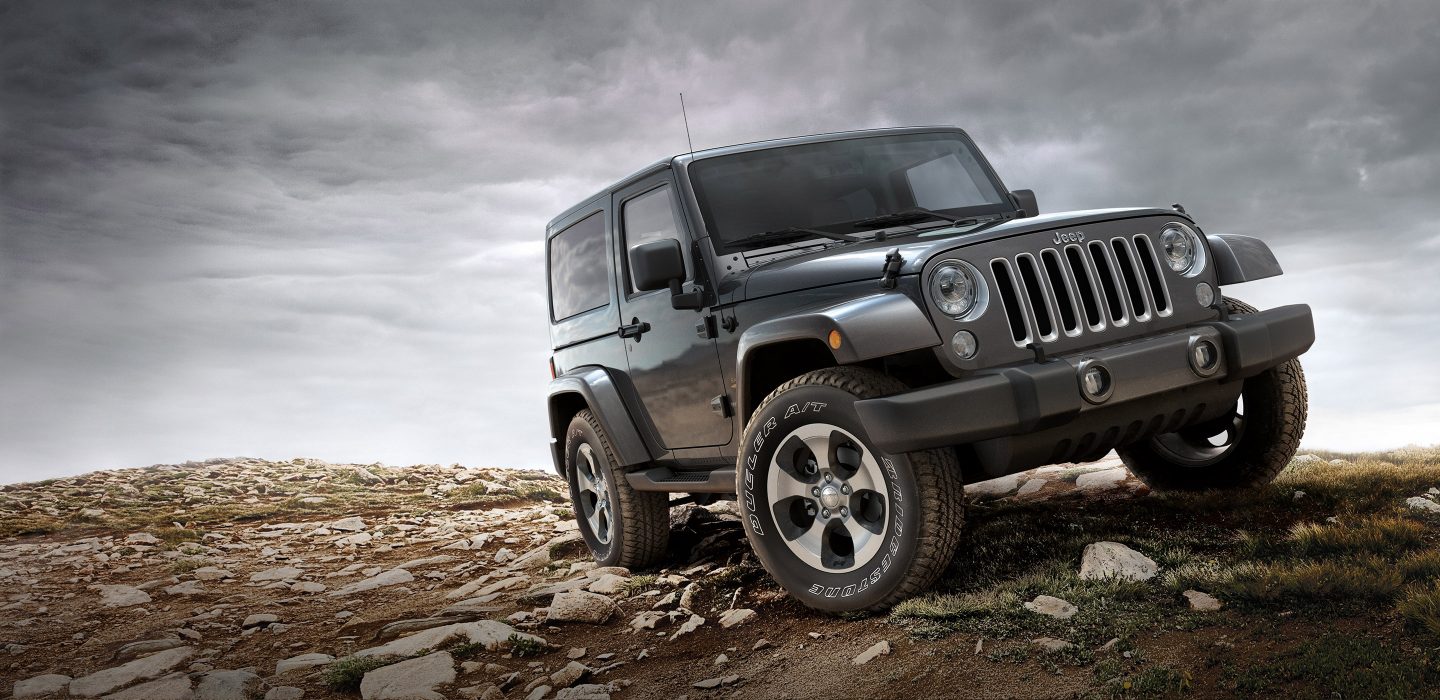 Off-road vehicles have certain special – and highly demanding -- requirements distinguishing them from those intended for on-road use. They need to be more rugged, more nimble, and easier to maintain and repair than on-road vehicles. They need to be highly customizable to meet the unique challenges of every environment into which they venture. They also need to have a proven record of tackling tough terrain in challenging conditions.
While Jeep fields many models today, its Wrangler model is the one that most closely adheres to the look, feel, and legendary off-road tradition established by the original Jeep of the 1940s. From the base-model Sport to the luxurious Sahara to the off-road optimized Rubicon, all Wranglers are purpose-built to tackle the world beyond the pavement. For this reason the Wrangler is repeatedly mentioned when knowledgeable people discuss the popular topic of "which off-road vehicle is best?"
Why are Wranglers so good at adventuring off-road? Let's look at the features that count: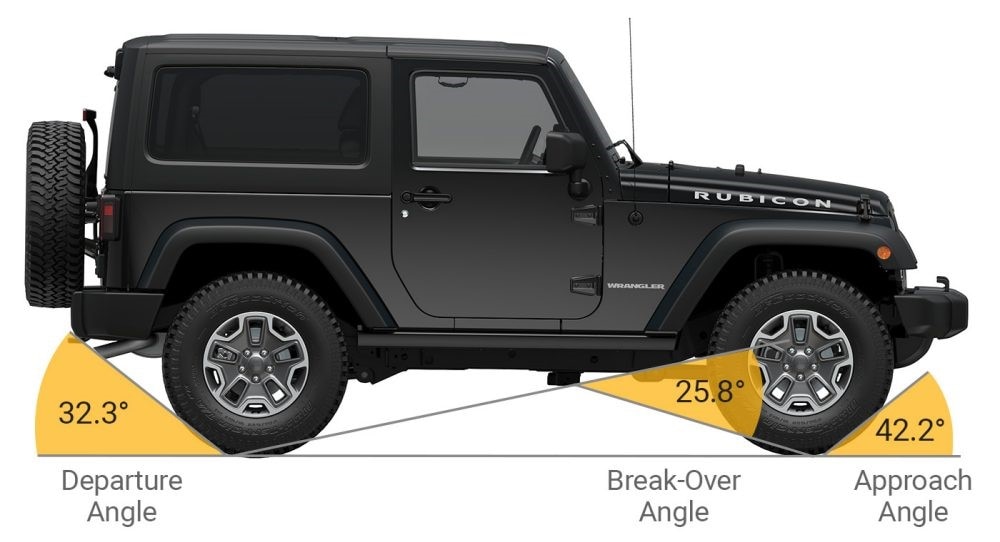 Ample ground clearance
The difference between successfully driving over a large off-road obstacle such as a boulder and getting one's vehicle hopelessly stuck on it comes down to ground clearance. But it's not just the difference, in inches, between the lowest point on your vehicle and the ground that matters; it's three sets of related metrics—break-over angle, approach angle, and departure angle—that determine whether your off-road vehicle will travel over – or foul – an object beneath it.
Jeep Wranglers have some of the most permissive geometry in the off-road world. Here's how they compare:
Wrangler Sport: Ground clearance: 8.3 inches/Approach angle: 38.7 degrees/Break-over angle: 21.5 degrees/Departure angle: 29.1 degrees
Wrangler Sahara: Ground clearance: 8.3 inches/Approach angle: 41.7 degrees/Break-over angle: 25.1 degrees/Departure angle: 31.8 degrees
Wrangler Rubicon: Ground clearance: 10 inches/Approach angle: 42.2 degrees/Break-over angle: 25.8 degrees/Departure angle: 32.3 degrees

Jeep Wrangler owners can extend these liberal clearances further with aftermarket lift kits. (Part of the fun of owning a Wrangler is availing oneself of the rich supply of Wrangler-ready customization kits). But even if they don't, the fact is that Wranglers – especially the Rubicon – are capable of tackling all but the largest off-road obstacles without additional modifications.
Solid Axles
Off-road adventures in the mountains can be brutal on an off-road vehicle's axles, which is why Wranglers use solid axles from Dana, a legendary manufacturer building military-spec axles since the 1940s. Both the Jeep Sport and the Sahara come with solid Dana 30 (front) and Dana 44 (rear) axles. For the maximum in axle strength, the Wrangler Rubicon comes standard with ultra-durable Dana 44 solid axles equipped both front and rear.
Power and gearing
All Wranglers come with Jeep's powerful 285 HP 3.6 liter V6 engine standard, providing plenty of power for the desert, mountain, or jungle. The Sport and the Sahara come equipped with Jeep's capable Command-Trac Shift-on-the-fly Part-Time 4WD system. The Rubicon goes even further; its Roc-Trac NV241-Off-Road transfer case provides a 4:1 low gear ratio, providing the massive torque needed for rock-climbing and other extreme off-road applications. The system provides an incredible 260 pound-feet of torque and a 73.1 to 1 crawl ratio.
A Mountain-Ready Form Factor
Size matters when you're venturing off-road. Oversize off-road vehicles often find themselves at a disadvantage once they depart from paved roads into densely forested areas. Even the mightiest off-road monster can become hopelessly trapped between sturdy pine trees or, worse, risk toppling over the edge of a narrow, twisting trail. But that's not going to be the fate of a Wrangler, given its slim width and sub-116-inch wheelbase.
Locking Differentials
When a tire loses traction and begins to spin, precious torque is wasted. Locking differentials solve this common off-road issue, routing power to the wheels that need it. This technology allows for better low-speed maneuvering in bumps, steep climbs, and on slippery surfaces. Wrangler Rubicons come with Jeep's patented Tru-Lok Locking Differentials as standard equipment.
Affordable, Available Parts, Plus Aftermarket Support
Off-roaders pride themselves on pushing their vehicles up to – and sometimes beyond – their absolute performance limits. This means that any off-road vehicle worth its salt will need parts from time to time. The wide and affordable availability of Jeep parts means you won't spend a fortune keeping your off-road vehicle in fighting shape. And the existence of a vast Jeep aftermarket industry supplying off-road customization kits means that Jeep owners will never run out of options to further optimize their vehicles for a particular off-road environment, be it wintry, hilly, muddy, or snowbound.

Interested in exploring the best-equipped off-road vehicles on the market today? The ones voted "Best 4x4 Vehicle of The Decade" by Four Wheeler Magazine? Come on down to Manhattan Jeep Chrysler Dodge to test-drive a Jeep Wrangler. Call 877-225-8709 or use this website's online contact form.