Hoboken, New Jersey, is a unique place to live. Its small size—just one-square mile—gives it that small-town vibe, but its hip restaurants, cool bars, and unique shops give off a youthful energy and big-city vibe. It also helps that the town is located just miles away from New York City.
While there are many famous things about New York City, like Times Square and the Metropolitan Museum of Art, fare connoisseurs will ultimately agree that the best thing about New York City is the food.
While traveling to the Big Apple for the day to taste that classic New York food could be fun, there's really no need to venture far from home, especially when the best food is right in your own neighborhood. Here are the best local eats in Hoboken, New Jersey.
Vito's Deli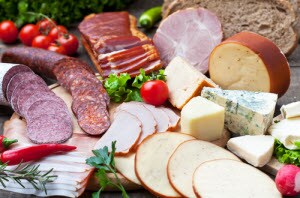 Residents of Hoboken love their sandwiches, as well as supporting family-owned and -operated businesses. Since 1986, Vito's Deli has been serving only the finest quality Italian food, making it the premium deli in Hoboken.
Why Eat Here?
It was named the 2015 Mutz Fest Winner for Best Mozzarella, Best Hero, and Kid's Choice.
The owner was born and raised in Hoboken, so he knows what residents like to eat.
Locals Should Eat…
Vito's has the best sandwiches, or "heroes," as they're called in the area. You really can't go wrong with the hot roast beef and Mutz—even their nickname for mozzarella sounds cool—sandwich, topped with brown gravy.
However, any of their sandwiches are great options. Plus, with toppings like broccoli rabe, or sweet or hot peppers, you'll get a great New York Italian sandwich right in Hoboken.
Benny Tudinos
When you think of food in New York City, the first thing you'll most likely think of is pizza. And Hoboken doesn't disappoint in this respect.
Home of the largest slice of pizza, Benny Tudinos sets the standard for what all pies are measured by. Just one slice of their cheesy, gooey pizza, and you'll probably be pleasantly full for hours.
Why Eat Here?
They've been in business for over 40 years, which shows how much people love going there.
This casual restaurant is open seven days a week, and even has free delivery if you'd rather eat your pizza at home.
Locals Should Eat…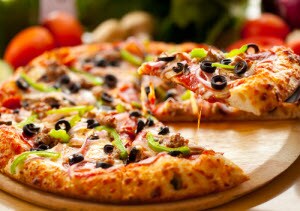 While Benny's offers classic Italian dishes like chicken parmigiana, you need to have their pizza.
Get a bunch of your friends to split the crazy-big 32-inch house pie with any toppings you want, like black olives, fresh garlic, or classic pepperoni.
Or, just get a slice of their five-cheese pizza, and be a in food coma from just one piece of pizza.
Arthurs Hoboken
New York City is the most populated city in the United States. They definitely believe in the philosophy of "the more, the merrier." You know who else feels this way? Arthurs in Hoboken.
Why Eat Here?
The restaurant is family-oriented with a casual vibe.
Forget a basket of bread—you get a bucket of pickles and peppers on the house!
Locals Should Eat…
Arthurs is known for their giant steaks, so you should try Our Steak, which is a well-marbled classic rib eye of beef.
If you're a "meat and potatoes" kind of person, get the baked potato or their homemade mashed potatoes on the side.
Leo's Grandevous
Hoboken, like New York City, and classic Italian food go hand-in-hand. Leo's Grandevous is not only one of the oldest and renowned Italian restaurants in Hoboken, it's also a great place to go and listen to the music of famous singer and Hoboken native Frank Sinatra.
Why Eat Here?
They've been around since 1939, so they know how to do Italian food right.
You can listen to some of your favorite music on the jukebox.
Locals Should Eat…
Leo's Grandveous is well known for Leo's Famous Mussels. Get them prepared with any of your favorite sauces: marinara, garlic white wine, or Fra Diavolo.
In the mood for pizza? Sit at the bar, have a beer, and get one of Leo's Bar Pies, topped with either extra cheese or sausage and mushroom.
Hoboken, New Jersey, is a great place to live with delicious local eats. No need to visit The City that Never Sleeps for delicious food when it's just outside your brownstone. Visit one of these great places today, and tell them that we sent you!