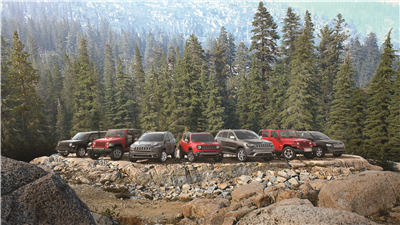 Jeep Wranglers are some of the most versatile and capable vehicles on the market, especially with their hard and soft top roof configurations. Both are great choices for adventurous drivers throughout Manhattan, Queens, and the Bronx, especially since both are interchangeable and adaptable.
Convertible soft tops come standard on each Wrangler and are synonymous with Jeep's reputation of freedom and adventure. However, there are a few benefits for buying a hard top, especially if you live in New York City. Here are our top reasons why buying a hard top for your Jeep is worth the investment.
Benefits of a Using a Jeep Hard Top
Protection from Theft
It's much easier for someone to break into a Jeep Wrangler with a soft top than one with a hard top since sharp objects can easily cut through the fabric. Unless your home has a garage, a hard top Jeep may be a more practical choice if you live in Manhattan, Queens, or the Bronx. Otherwise, you could be vulnerable to car thefts and break-ins, even if you don't store valuables in your car.
Quieter Ride Quality
Convertible soft tops are prone to noise from the city, the wind, and the road while cruising at highway speeds, which can be a nuisance while you're listening to music, speaking with a passenger, or talking on the phone. Luckily, the Wrangler hard top's solid material blocks out the clatter from outside so you can enjoy a quiet, serene ride through the city.
Better Equipped for Snow and Cold Weather
A Jeep soft top offers less insulation from the cold compared to the hard top, which makes its cabin colder than some other cars when you start the engine on chilly mornings. The hard top retains more heat so you can get cozy while driving through Manhattan, the Bronx, and Queens and is easier to clean after snow or ice storms.
The material Jeep soft tops also get tight when temperatures drop and are prone to wearing down or tearing. During a polar vortex, Jeep hard tops are your best bet.
Buy a Jeep Wrangler Hard Top at Manhattan Jeep Chrysler Dodge Ram
While there's nothing like driving a soft top Jeep Wrangler through Manhattan, Queens, and the Bronx during the summer, its alternative hard top is easier to maintain in the winter and provides extra security when you need it most. We recommend investing in one if you live in an area prone to inclement weather or heavy snowfall to make cleanup and maintenance easier in the long run.
If you're interested in purchasing a Jeep hard top, Manhattan Jeep Chrysler Dodge Ram has them available at our dealership, conveniently located at 678 Eleventh Avenue in New York, NY. Stop by our dealership to pick up your hard top today or call our parts department at 877-234-2148. The Manhattan Jeep Chrysler Dodge Ram parts department is open from 7:30 am to 7 pm Monday through Friday and 7:30 am to 5 pm Saturday.