When you drive home in your brand-new vehicle that you purchased or leased from Manhattan Jeep Chrysler Dodge Ram, it's understandable that you want to keep it running well. So we're providing the information you need about preventative maintenance to help you ensure that your vehicle performs just like the day you bought it.
Make sure your fluids are filled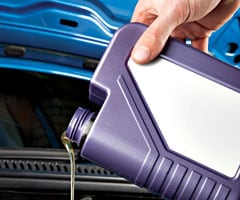 From motor oil to transmission fluid to windshield washer fluid, your vehicle needs these liquids to operate and perform optimally. However, the more you drive, the more they break down, which means they won't help your vehicle the way they should. Unfortunately, this can cause a series of automotive issues that eventually will lead to a breakdown if not addressed. So it's best to stay on top of the levels and cleanliness of the fluids throughout your vehicle. When they start to get low or appear dirty, be sure to schedule an appointment at our service center.
Check your battery voltage level
Drivers tend to overlook their vehicle's battery when it comes to preventive maintenance, but it needs your tender loving care because it supplies the power needed to start your vehicle and get it in motion. But over time, and even because of certain weather conditions, the battery can fail and need to be jumped. To avoid getting stuck, though, you just need to regularly check the battery's voltage level. This keeps you up-to-date on how it's performing and gives you an idea of how soon you may need to get a new one.
Replace the windshield wipers
When driving through the rain, sleet, or snow, you want to have the best visibility possible to avoid collisions, and you can easily achieve this by regularly replacing your windshield wipers. Throughout the year, they face their fair share of weather-related damage, from extreme heat to frigid temperatures, so they deteriorate over time and lose their ability to properly function. This causes unfortunate visibility issues and increases the possibility of being involved in an accident. To avoid this possibility, simply change your wiper blades with the seasons.

 
Schedule regular service appointments at Manhattan Jeep Chrysler Dodge Ram
While this list of preventative maintenance tips can help your vehicle perform well and last longer, it's still important to schedule routine services at Manhattan Jeep Chrysler Dodge Ram. Our skilled technicians will ensure your vehicle is running efficiently and smoothly as you take to the streets of Manhattan, the Bronx, and Queens. They'll also perform all of the necessary repairs to get your car up and running if any damage has already occurred.
Preventative maintenance is important for your vehicle to make sure that it runs both smoothly and efficiently for as long as possible. So take the time and provide the care your car deserves. Carry out the preventative maintenance suggestions noted above and make sure you schedule the necessary maintenance services at Manhattan Jeep Chrysler Dodge Ram today to help keep your vehicle in tip-top condition. 
Additional Resources:
What to Check Before Inspection