As you add more miles onto your car, the parts that make up your car's brake system wear down. Luckily, when brake parts reach their wear limits they often make their presence known. Keep your eyes and ears open for the following signs your brakes need maintenance:
      
A sluggish or spongy response to the brake pedal
          
Pulsing in the brake pedal
          
Clicking or screeching sound while braking
          
A shaking steering wheel
          
A lit brake dashboard light (indicating a problem with the Antilock Braking System (ABS) or another brake issue)
Additional Resources for Brake Maintenance
You have questions about your car's brakes and the certified service team at Manhattan CJDR has answers! Check out these additional resources for help with troubleshooting brake-related issues:
Brake Pads vs. Rotors                     Signs You May Need Your Brakes Replaced
       How to Keep Your Brakes in Top Shape
Why Are My Brakes Squealing?                                 Why it's Important to Check Your Brakes Often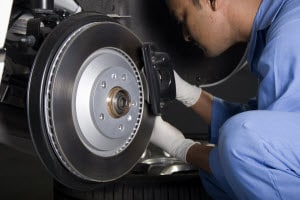 Stay Up-to-Date with Your Brakes
The only way to make sure that your brakes are performing as they should is to pay attention to what goes on while you're behind the wheel and get your vehicle on a dedicated routine maintenance plan. Get started today by scheduling a brake check or repair with the Manhattan CJDR service center located at 630 West 55th Street, New York, NY.
Our expert technicians are committed to providing you with top-notch brake repair services to ensure your car runs its best and that you stay safe on the road.
At Manhattan CJDR, we proudly offer quality maintenance for your whole vehicle. In addition to complete brake repair services, you can count on our professional technicians for oil changes, tune ups, Mopar part replacements, and more.